Hearing Aids, Hearing Tests & Ear Wax Removal in Stratford Upon Avon
A family-run independent hearing aid centre that has been providing the very best hearing aids combined with outstanding levels of care and service since 2017. Call us now on 01789 264 111 or simply click on the button below to book your appointment.
Request your Consultation
The Best Hearing Aids in Stratford Upon Avon
As an Independent hearing aid centre we provide the very best hearing aids from the leading hearing aid brands in Stratford Upon Avon. With outstanding hearing aid brands such as Widex, Phonak and Oticon among others available to us, you can be sure that the hearing aids we provide are the best devices for you and your hearing loss.
Hearing Tests in Stratford Upon Avon
We provide best practice hearing tests undertaking the testing processes that allow us to truly understand your hearing in order that we can make recommendations. Your ability to hear sound is obviously important, however, your ability to process speech and in particular, speech in noise is just as important to form a holistic picture of your hearing and any problems you may have. That's why we undertake speech testing as a matter of course so we can make the best recommendations based on the best testing processes possible.
Ear Wax Removal in Stratford Upon Avon
We provide safe and comfortable ear cleaning in Stratford Upon Avon using several processes. More often than not we undertake micro-suction ear wax removal, however, depending on the ear wax and the person in front of us, we may undertake irrigation ear wax removal or the latest process which is endosuction ear wax removal. No matter which process is the best for you, you can rely on us to remove that annoying ear wax.
Call us on 01789 264 111 to book your free consultation now
Independent Private Hearing Care in Stratford Upon Avon
Stratford Hearing Centre opened its doors in November 2016. It's located in the Minories, just off Henley Street and a few steps away from Shakespeare's birthplace. Since then, it has become the only consultant approved hearing centre in Warwickshire.
To qualify under the 'Consultant Approved Site' scheme and become recognised as a centre of excellence, audiologists at Stratford Hearing Centre were required to pass a series of audits against best practice set by an independent advisory panel, made up of some of the best clinicians in the country, including Harley Street audiologist Rony Ganguly and Professor Quentin Summerfield from the University of York.
The state of the art practice boasts two consulting rooms, each one with a custom made sound booth for performing detailed hearing tests including speech in nose testing and video otoscopy, so you can view the inside of your ear.
Our Hearing Care Services
Call us on 01789 264 111 to book your free consultation now
Hearing Aid Brands in Stratford
Phonak Hearing Aids
Phonak is a Swiss hearing aid manufacturer and one of the biggest hearing aid brands in the world. They provide high-quality hearing aids and would also be seen as a premium brand. They have just recently introduced a new hearing aid platform called the Marvel which is a Made For Any Phone hearing aid with new rechargeable hearing aid models.
Learn More About Phonak Hearing Aids
Oticon Hearing Aids
Oticon is a Danish hearing aid manufacturer, and is arguably the biggest hearing aid manufacturer in the world. Their latest hearing aids are the Opn S Made For iPhone hearing aid range which includes a new rechargeable hearing aid option. Reviews from users and professionals are excelllent.
Learn More About Oticon Hearing Aids Here
Resound Hearing Aids
GN ReSound is another Danish hearing aid manufacturer that have become some of the world's biggest suppliers of hearing aid technology. They were first to market with a made for iPhone hearing aid. Their latest offering is the LiNX 3D, and the brand new LiNX Quattro Made For iPhone hearing aids.
Stratford Hearing Centre
01789 264111
Stratford Hearing Centre
The Minories,
4 Henley St,
Stratford-upon-Avon,
CV37 6NF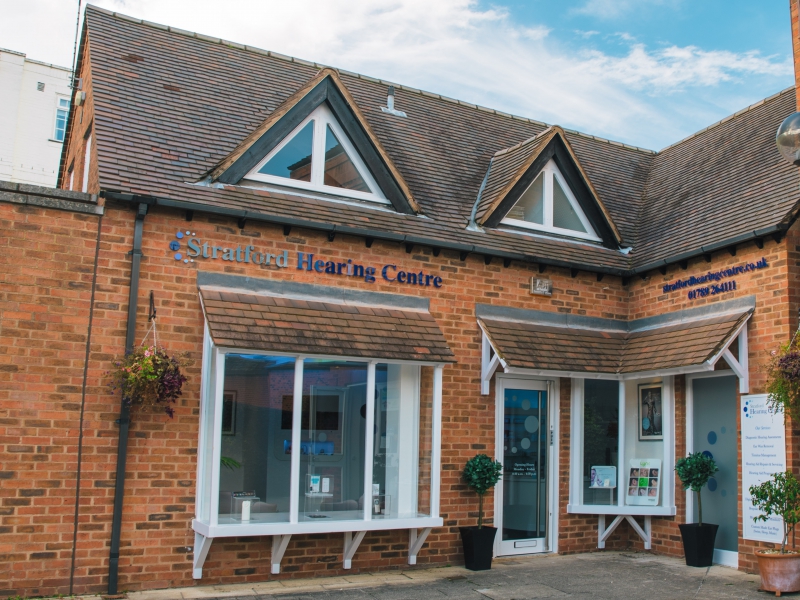 Watch what our customers have to say